Vintage 80's Alfred Angelo Lace Victorian Wedding Dress S
Purchase
Sorry, this item has sold
Description of Vintage Clothing
So you just got engaged and are looking for that perfect wedding dress?!? Look no further, that is if you are looking for a vintage 80's Alfred Angelo designer wedding gown that has a Victorian look to it as well. Sweetheart neckline loaded with accented beads of pearls and sequins. Lace overlay with dainty flowers, see the sleeve picture for the same kind of lace. The bodice is fitted with other embellished lace on the bust and front of bodice. The puff mutton style sleeves are sheer lace, pictured with tissue stuffing them so you can see the lace better. The back is sheer lace, that goes all the way up to the neck, zips down the back. The skirt is layers, and layers of lace ruffles. (eight to be exact on the front). Attached belt at the waist, with a satin silky belt that drapes along the long train. Sorry for the background in the picture of the train! (Not enough room in my photo studio these days!) From the waist to the end of the train is 82" length.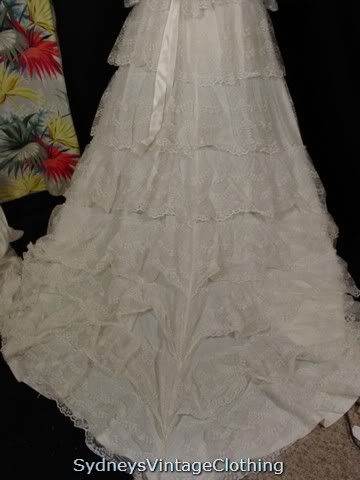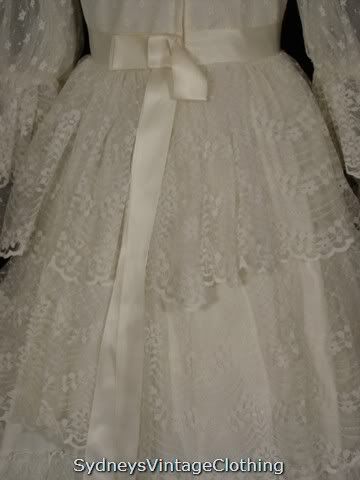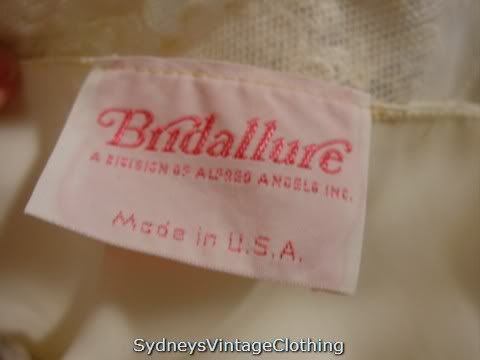 ---
DETAILS
Label: Bridal Allure a division of Alfred Angelo
Color: White
Fabric: Rayon Nylon Lace Beads Sequins
Sleeve: Long
Skirt: Floor Length

Women's Formal Evening Dress
Bust: 36
Waist: 24
Hips: Free
Length: 68
Size: S
Sleeve: 25
---
CONDITION: NEAR MINT/PERFECT

Shop for More Vintage
$69.99




$45.49




Thanks for shopping in my online vintage clothing store, here is an incredible vintage 60's ladies dress with matching bolero jacket. The dress is sleeveless with a scoop neckline, fitted bodice and plats from the skirt to add fullness. Zips down the back for closure. The matching bolero jacket is single breasted with big coverered buttons down the front. Short sleeve with a puritan collar. The fabric of the set is a cotton blend with a dainty flower and square design, see close up pictures for details. For more information and history see Saks Fifth Avenue" .
$12.99




$8.44




Thanks for shopping in my online vintage clothing store, here is a nice vintage silky rayon embroidered sleeveless dress. The dress has a shift cut to the sewing pattern with a silky rayon crepe fabric. There is flower bouquets in the front of gorgeous embroidery hand work. Please note there is under arm stains and a tiny hole here and there. This one is sold as is, for study, to cut and use the embroidery, etc. All sales final.
$79.99




$51.99




Up for your consideration is an incredible vintage 60's dress. Mandarin collar with sheer lace covering the shoulders and the sleeves, great illusion style. Black sheer lace over a layer of a silky rayon. The lace has a rose floral design, very romantic and elegant. Zips and snaps down the back for closure. The sleeve measurements on this one is from the collar to the cuff.