Hawaiian Vintage Muu Muu 80's Floral Cheetah Dress Large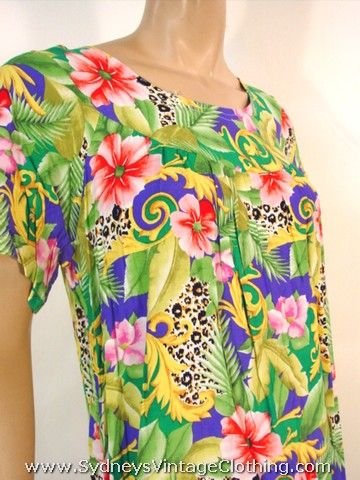 Purchase
Sorry, this item has sold
Description of Vintage Clothing
Offering you a Hawaiian 80's floral muu muu dress. Tropical floral with cheetah hidden in the jungle print. Short sleeves with a scoop neckline and pleats from the neckline draping down for the skirt. Typical muu muu cut. Wild print with hibiscus flowers of hot pink, red, yellow, green, purple and of course green foliage. Great for pool side parties, cruise vacation, etc.
---
DETAILS
Label: None
Color: See Description
Fabric: Rayon
Sleeve: Short
Skirt: Knee

Women's Dress
Bust: 42
Waist: free
Hips: Free
Length: 46
Size: L
---
CONDITION: EXCELLENT

Shop for More Vintage
$59.99




$38.99




Up for your consideration is a great prom dress. Spaghetti strap with a plunging V neckline. Criss cross pleats adorns the bodice. Long flowing crepe skirt to the floor. The back is open and the bottom of the back has a sheer netting on the lower back. The sheer netting comes around to the front on the bodice too. Zips down the back for closure.
$69.99




$45.49




Thanks for shopping in my online vintage clothing store, here is a fabulous vintage 60's knit form fitted dress. Wonderful patriotic colors. Scoop neckline with white crochet knit, accented at the waist with red and white. The long hip hugging skirt is a navy blue. The sleeves are a sheer knit and the body of the dress has a lining. Zips down the back for closure.